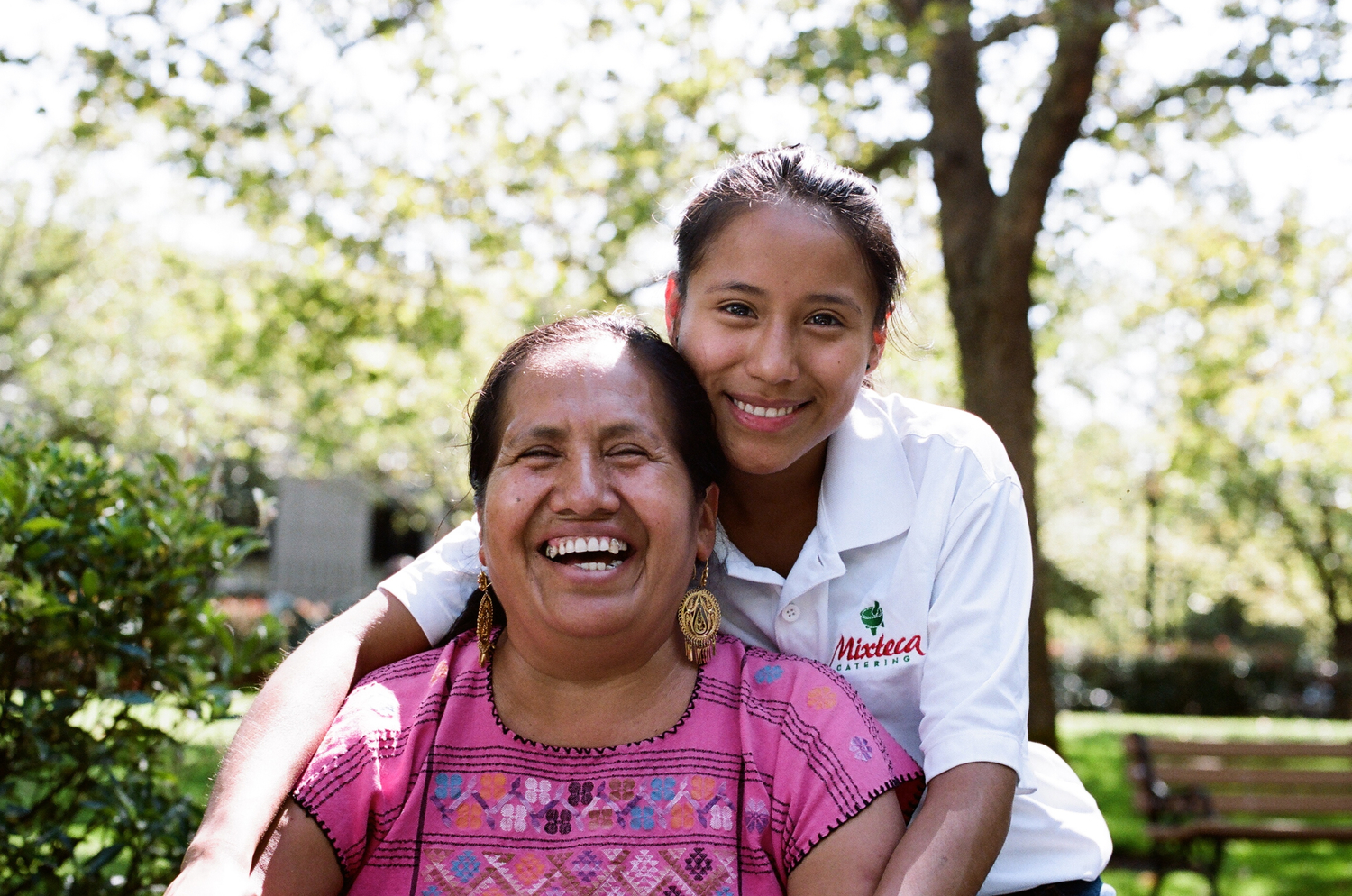 "We have at the Portland Mercado a home for Mixteca Catering's first full-time business. This is the place in Portland for us to be, a part of a place that represents our home and Latino Culture"

-DOÑA PAULA, OWNER, MIXTECA CATERING
MIXTECA
Mixteca, una empresa familiar que se esfuerza por seguir los pasos culinarios de sus antepasados, está dirigida por la chef Doña Paula Asunción. Originaria del Carmen Tuxtitlan, Oaxaca, México, la influencia de la variada geografía de la región y las culturas indígenas se reflejan en la comida de Mixteca. Desarrollado a partir de productos como maíz, habas, pimientos del Chile y muchos otros alimentos frescos nació un icono culinario conocido como mole, y usted debe probarlo aquí! El mole de Mixteca es una salsa excepcionalmente compleja a base de Chile, que combina técnicas e ingredientes que encarnan las tradiciones culturales y culinarias de su herencia mestiza. No olvide probar los maravillosos tamales con o sin mole.
Conoce a los Dueños
Doña Paula comenzó su historia muy joven acompañando a su padre, un comerciante, a los mercados de Oaxaca, México. Ella comenzó a hacer tamales y mole como regalo para sus vecinos, allí encontró su pasión, ella ha estado haciendo tamales para los amigos, la familia y los vecinos desde entonces. Para sostener a su familia de seis niños en los Estados Unidos, Paula trabajó en granjas o en establecimientos de la comida rápida hasta que ella entro a formar parte de la incubadora de negocios del Portland mercado en el 2012, lo que la ayudó a conseguir su sueño de comenzar un negocio del Tamales. Su objetivo final es tener un negocio que le permita pasar su herencia culinaria a su familia y a la comunidad a través de su arte y su amor por la cocina.
MIXTECA
Mixteca, a family business striving to follow in the culinary footsteps of their ancestors, is led by chef Doña Paula Asuncion. originally from el Carmen Tuxtitlan, Oaxaca, México, The influence of the region's varied geography and indigenous cultures are reflected in the food. founded on staples such as corn, beans, chili peppers and many other fresh foods was born a culinary icon known as mole, and you must try it here! Mixteca's Mole is an exceptionally complex chili-based sauce, which combines techniques and ingredients that embody the cultural and culinary traditions of their mestizo heritage. Don't forget their mouth watering tamales, wonderful with or without mole.
Meet The Owner
Doña Paula began her journey as a young girl accompanying her father, a merchant, to the mercados of Oaxaca, México. She also began making tamales and mole as gifts for her neighbors, and loved it so much, she has been making them for friends, family and neighbors ever since. To support her family of six children in the U.S., Paula worked on farms or at fast food establishments until she joined Portland Mercado business incubator in 2012, which helped her pursue her dream of starting a tamale business. Her ultimate goal is to have a business that allows her to pass her culinary heritage to her family and the community through her art and love for cooking.
País de Origen:
El Carmen Tuxtitlan, Oaxaca, Mexico
Significado de Nombre:
Mixteca es una región en el sur de México, que incluye Oaxaca, donde nació y creció Doña Paula. Los mixtecos son los habitantes indígenas de Oaxaca, y desarrollaron sabores y cocina regionales que son internacionalmente conocidos hoy en día.

Especialidad de la Casa: Plato de Mole. El Mole Negro está hecho de más de 15 ingredientes diferentes. Servido con pechuga de pollo, arroz blanco mexicano con verduras, Frijoles junto con tortillas de maíz azul orgánico hechas a mano de nixtamal molido en piedra.

Metas Para su Negocio:
Convertirse el representante del mole y tamales en Portland, y lograr que el negocio crezca para llegar a ser un restaurante establecido.
Country of Origin:
El Carmen Tuxtitlan, Oaxaca, Mexico

Significance of Name:
Mixteca (meesh tek a) is a region in Southern Mexico, which includes Oaxaca (wah – HAW – kah) where Doña Paula was born and raised. The Mixtec people are the indigenous inhabitants of Oaxaca, and developed regional flavors and cuisine that are internationally known today.


House special: MOLE PLATE. Mixteca's Mole Negro is made from over 15 different ingredients. Served with chicken breast, Mexican white rice w/veggies, beans along with handmade organic blue corn tortillas from stone ground nixtamal.


Goals for Business:
To become the face of mole and tamales in Portland, and to grow their business into an established restaurant .