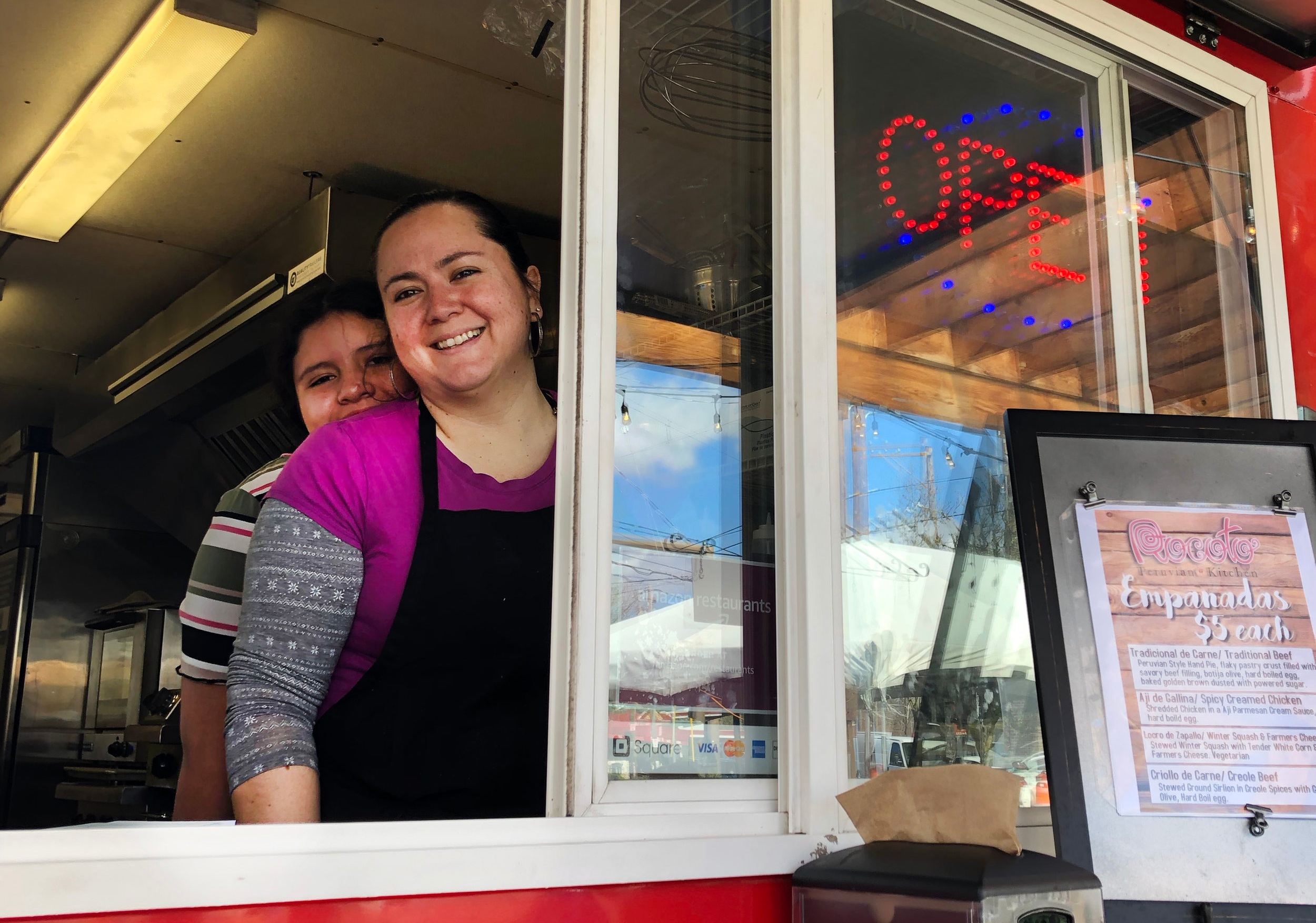 "Rocoto is more than a business to me, it is about preserving and proudly showcasing my Peruvian culture. "

- Loretta Alcocer, Rocoto Peruvian Kitchen.
ROCOTO
La comida peruana es deliciosamente diversa, cada plato tiene un pequeño secreto que lo dejará siempre con ganas de más.
Rocoto nació de la pasión de Loretta por la comida peruana. Creciendo en una casa cuyo centro es la cocina, impregnada de la cultura peruana. Todavía puede ella recordar el aroma del Lomo Saltado o de la Chicha Morada cuando estaba hirviendo, el golpe del cajón cuando los hombres cantaban canciones de festejo o vals Peruano. Loretta siempre se sintió atraída por la cocina donde podía aprender multitud de métodos tradicionales de cocina de su abuela, su padre, su madre, tías y tías honoríficas. Loretta es un mosaico de sus técnicas de cocina y ha sido bendecido con este conocimiento generacional de su cultura alimentaria peruana.
Conoce a la Dueña
Con una risa más grande que la vida y una cálida sonrisa tímida, Loretta Alcocer, propietaria de Rocoto Peruvian Kitchen, nació en Nueva Jersey y se crió entre Perú y Colorado. Al principio, Loretta se enamoró de sus raíces peruanas, siempre fascinada por la comida peruana, ya cuando cursaba el tercer grado Loretta dibujaba los menús de que algún día sería su soñado restaurante peruano. Entre la escuela y los otros emprendimientos empresariales, sus sueños por la comida peruana siempre se mantuvieron en un segundo plano, sin embargo Loretta nunca dejaba pasar la oportunidad de cocinar un banquete familiar. Su pasión por la comida peruana nunca ha desparecido de su mente. En el año 2000 comenzó a trabajar de forma independiente en banquetes privados especializados en comida peruana y sudamericana. Desde 2017, Loretta ha organizado varias cocinas de demostración para compartir el amor que tiene por la comida peruana y latinoamericana.
ROCOTO
Peruvian food is deliciously diverse with each dish having a certain little secret something about it that will leave you swooning and wanting more!
Rocoto was born of Loretta's passion for Peruvian Food. Growing up in a food-centric home, steeped in Peruvian culture. She can still remember the aroma in the air of flambeed Lomo Saltado or the Chicha Morada boil, the beat of the cajon as the men belted out canciones de festejo o vals Peruano. She always found herself drawn to the kitchen where she could learn multitudes of traditional cooking methods from her grandmother, father, mother, aunts and honorary aunts. She is a patchwork of their cooking techniques and have been blessed with this generational knowledge of her Peruvian Food Culture.
Meet The Owner
A larger than life laugh and warm timid smile, Loretta Alcocer, owner of Rocoto Peruvian Kitchen was born in New Jersey and raised between Peru and Colorado. Early on Loretta fell in love with her Peruvian roots, always fascinated by Peruvian food, by the 3rd grade Loretta had mocked up menus for what she dreamt would one day be her Peruvian restaurant. Between schooling and early entrepreneurial ventures her dreams of Peruvian food were always kept on the back burner. Loretta never passed up an opportunity to cook up any family feast. Her passion for Peruvian food could never be contained. In 2000 she started working independently in private party catering specializing in Peruvian and South American Food. Since 2017 Loretta has hosted several demonstration kitchens to share the love she has for Peruvian and Latin American food.
País de Origen:
Peru

Significado de Nombre:
Rocoto es un chile de semillas negras que es nativo de la región del Bolivia y Peru desde tiempos anteriores a los Incas. El rocoto es parte fundamental de la cocina peruana.
Especialidad de la Casa:
Empanadas, Ceviche, lomo saltado.

Country of Origin:
Peru

Significance of Name:
Rocoto is a pepper with the black seeds, native to Bolivia and Peru and dates back to pre-Incan times. Rocoto is used tradional Peruvian cuisine.

Favorite Dish:
Empanadas, Ceviche, Lomo saltado.